I've been piling up used and discounted parts for a while, with plans of making a TTS rig for light backcountry use. I finally found a pair of used Voile Objective BC's and mounted them up for 2 short ski days before the pandemic hit. Now that I'm stuck in the house, I thought I'd take what I learned during the shakedown and improve it.
Problem
Transitions are klunky with TTS. With a telemark heel, the best practice is to tuck the heel throw under a climbing bale. With an alpine heel (the tele-rando setup that I have), the best practice is to retain it with a bungee cord. This works fine for a big up and down, but gets tiresome in rolling terrain... the same terrain that inspired me to pick up the fishscaled Voiles.
Insight
A heel throw with a 90 degree angle that holds the wire at the apex will give the most clearance from the boot when not in use, and lie as flat as possible. Both of these are essential when space is tight. Also, an alpine heel with a flat top lets the telemark heel throw lie flat. Heels with a big flip-down riser don't play nicely with a telemark heel throw, but flat heels that pivot 180 degrees for climbing mode can work.
Solutions Considered

1. Heel throw

I looked at just about every telemark heel throw that exists, and played around with a bunch (Voile, OMG, G3, Rottefella). I even tried a Voile side throw heel, but that had a bunch of issues. The Bluebird Day Gear and Rottefella Riva Z heels are the closest to 90 degrees in shape. The Bluebird heel would need to be modified to hold the wire differently, and probably has clearance issues when resting on top of the boot heel. The Riva Z holds the wire in the right place, and has boot clearance issues.

2. Retainer

I tried the bungee cord method. It works, but is fiddly with gloves on, especially when rotating the alpine heel. I considered various spring-loaded clips. The thought struck me that a very strong, flat magnet could work really well.
Solution
After trying a bunch of different configurations, I settled on the Rottefella Riva Z heel throw, modified to mate with a Scarpa F1 boot, and a neodymium ring magnet to retain the heel throw. The nice thing about this solution is the Riva Z heel throw uses a steel clip to retain the heel wire, unlike most which are plastic. That steel clip gives plenty of surface area for the magnet to hold tight. I can pick up the entire ski by the heel throw and magnet. Furthermore, using a magnet rather than a clip or bungee makes it easy to rotate the heel binding between touring, climbing, and alpine modes without fiddling with the heel throw.
Heel throw:
Heel throw retaining magnet:
How it all works together during transitions: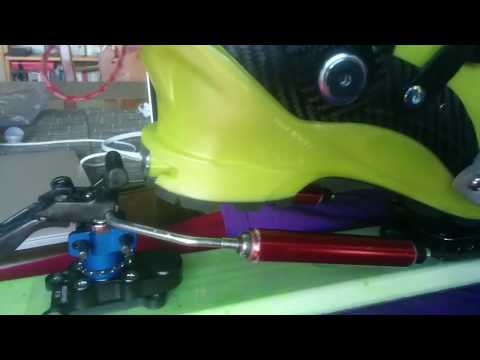 Conclusion
I haven't been able to get out on the snow, but in bench testing the transitions are as fast and easy as possible, and retention of the heel throw when in non-telemark mode is rock solid. The only move that requires stepping out is transitioning out of alpine mode. I have an idea on how to modify the heel piece to allow sliding it back with a pole (like the Meidjo alpine heel), but I'm not sure if it's worth it.
I would love to 3D print a heel throw like this, rather than using bolts and epoxy. If anyone has pointers or would like to help, let me know!