Does earning your turns include pedaling?
Or to be more specific - crazy boony crashing a creek w/ bikes in the drought...
Tune in
and get your jib on.
And enjoy the silent movie.
Napa Valley.
Snowed all day today!
Last Wednesday, Jan. 29 -
Bottom of Bearpig Ridge.
Moore Creek.
Trout were spotted and much fun was had.
Been wanting to do this ride for awhile.
Brought a few friends.
I told them it was all downhill. Shuttled.
I forgot to tell them about the 'creek' part...
:thumbsup:
Just kidding - they knew what they were getting into - sort of.
They've been on more than a few of my mt. bike rides.
They were not disappointed.
The ride starts off with a high speed, smoooth downhill. A few small climbs and then another downhill.
Steeper and chunkier.
20 minutes later and 1000' lower, we arrive at the creek.
Just before Bearpig Ridge.
Moore Creek snakes it's way down a canyon almost one thousand feet deep.
Steep slopes covered in madrone, manzanita, scrub oak,
pine, fir, bay, cedar and redwood trees
rise up from the creek.
Multiple levels of poison oak and grape vines as thick as my wrist hang 20 - 80 ft. down from the trees.
Tons of moss and lichen.
I'm liken' the lichen.
Lots of salamanders and newts.
The only way through IS the creek.
I was also interested in seeing if there were any trout.
Only 1 mile of creekin' would bring us to the trail system for the exit.
There was a shuttle that was arranged to pick us up with beers included.
Win-win - right?
You would be correct.
It was a total blast!
Didn't see any bears or pigs, but found a few trout.
The creekin' section took 1.5 hours.
We had no idea what we were getting into.
Other than knowing the entrance and exit routes,
the creek was a mystery to be solved by us.
The wet rocks were super slippery. We tried shouldering/carrying our bikes, but we needed
them for stability.
Plant the bike, lock-up the brakes and carefully make a choice of foot placements on the slippery stones.
Obviously no cell phone coverage - but I always carry a satellite phone in the backcountry.
Nothing.
Don't F up...
Route finding our way through the boulders was a trip.
Totally enjoyed that part.
The kayaker in me was jumping through hoops in my mind.
The climber in me enjoyed all the stones.
The biker in me cringed at all the dings, bangs, drags, and WATER.
jibC said F it and dove right in early.
Staying dry was the goal.
None of us achieved that goal.
Dr.jib sticking to high ground in an early attempt to keep his socks dry
The Moore Creek Park provided our singletrack exit/descent out of there
and we looped it around Lake Hennessey's shoreline to the TH.
We completed our objective and the shuttle arrived with beers included.
Special thanks to jibC's wife for picking us up at the exit with the required beers!
Great day to be on the bike and in the creek.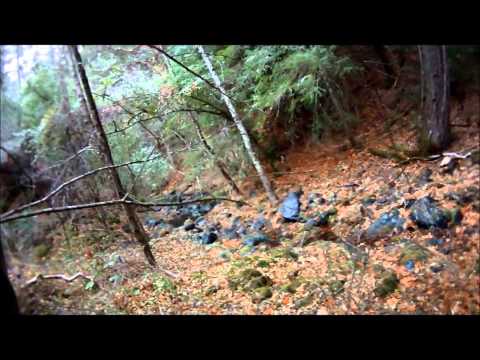 3 hours total.