Looming large above Thompson Pass and below Sapphire Peak, the 27 Mile Glacier pours out of a high basin, frozen in a desperate attempt to invade the valley below. Since the 1970's and the advent of melting glaciers around the world due to our over-consumption of fossil fuels, Valdez stands as a witness to global warming and the dramatic retreat and melting of glaciers. For those who have not been here that long these changes may seem small. Fortunately I've been skiing these glaciers for nearly 35 years and as recently as 1995 began keeping better records by photographing this dynamic loss of ice in area glaciers in the fall of each year.


Beginning in 1994 and in the fall, I began hiking into Worthington Glacier, Loveland and 27 Mile Glacier and placing a three rock cairns at each glacier's terminus. The glacier at the top of Telemark in Schoolbus is now gone. On the Worthington Glacier, these cairns can be found atop the rock buttress in the middle of the glacier. The cairns at the 27 Mile Glacier are harder to find as the area is prone to avalanches. Fortunately I found only my 1995 cairn last weekend.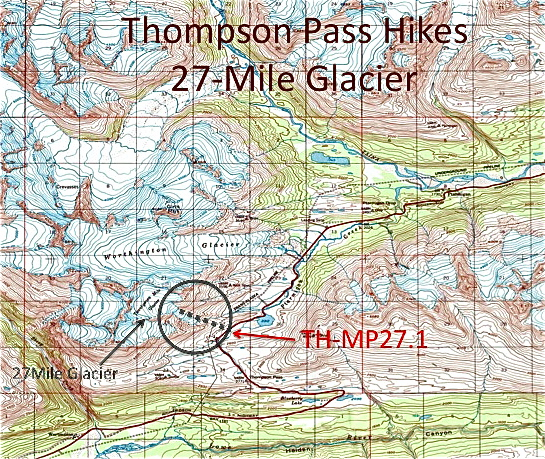 This is a real nice moderate hike as you begin at mile 27.1 of the Richardson Highway and begin a steep hike up and over the TAPS scar and under the power lines. From here stay low under Loveland Ridge and traverse into the valley and head to the creeks pouring from 27 Mile Glacier and Loveland Basin. This is simple creek crossing most the time and rarely more than knee high. Pick a spot above 27 Mile Creek and cross.