Threw the packs in the car for the 4th Weekend and headed north about 4 hours on Thursday night for the Lost Lake Trailhead on the Nabesna Road that leads into the north side of Wrangell/St.Elias National Park. It's a spectacular area of mostly 6-7000' peaks and vast landscapes made of ancient volcanic activity, which hides many unique geologic features deep in the Park.
Here's a 5 minute vid of the trip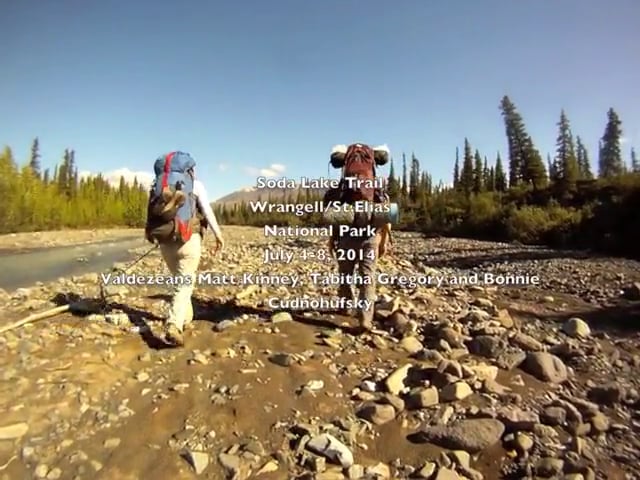 We have packed extensively over the years in the Noyes Mountain mainly in the high alpine areas and some peak bagging. But this trip would take us along the base of the range in brush line along a newly constructed ORV trail, at least most of the way.
They have some hardened off tent sites along the road. After a nice sleep we woke and began packing for an 8am departure and then drove a few miles to the Lost Creek Trailhead.
One pretty much wanders up the creek bed with a few crossings. In the distant is the pass we did two years ago near Mt. Noyes and then down Trail Creek for a few days.
Finding a camping place the first night was not easy as anything not in a river bed was in a wet forest or open areas matted in tussocks. Here we got lucky and found a patch of gravel on a high spot just off the ORV trail.
On the second day we outdid the motor folks and entered better wilderness.
Tabitha heads up the narrowing canyon that passes a salt lick popular with Dall Sheep, but we saw no sheep this trip, some bear signs and one section of trail peppered with wolf scat for about a mile. Oh..and Bonnie stepped out of her tent for an evening walk in the fog and rousted a moose.
At this point on the route we were really confused. There was no horse trail and I had a poor park topo.
Not understanding the geological significance of the area, we knew the lake was near. A trail description mentioned a possible scramble up steep scree for a 100 feet, so we labored up and over this feature. It was actually the earthen dam that created Soda Lake.
We weren't lost anymore.
Classic Alaska tent site. In the background one can see the large two-toned scree slope that resulted when that entire side of the mountain slid down and across the creek with massive boulders and sediment created this tiny wonder in our nation's largest national park.