This is a line I had been eyeing for a while. It's only about 5-6 hours from the Tahoe area, one of the closest and most accessible of the fifty classic backcountry ski descents. Given the low snowpack and early warming, what I thought might be a late April trip turned into a March scramble. After a couple of stormy weekends, a high pressure system and record temperatures rolled in for what looked to be the best of a bad spring snowpack. I found a friend of a friend who was up for the trip and we planned everything in less than a week.
The big gear question was skins vs. snowshoes vs. crampons. Because of the record heat, we opted for snowshoes. This worked well on the approach, but in the couloir, the icy conditions caused by the shade of the rock walls combined with the well-worn boot pack made us ditch the snowshoes. It turned out boots alone were enough to get to the top, though crampons would have added a welcome margin of safety.
Upon reaching the top of the couloir around 9:30am, we realized that the height of the rock walls meant the sun wouldn't hit the snow inside it for a couple of hours. Meanwhile, there were some nice east-facing aspects that were just warming up on the other side of the mountain. We decided to boot pack for a few bonus turns. Unfortunately, about halfway up the snow was getting too soft to climb. Another group we met in the couloir managed to get a little higher with skins, but still not far. We regretted having ditched our snowshoes, but made the best of the turns we earned.
After a long break for some food and water, the sun finally started hitting the snow in the couloir around 11:30am. We gave it 30 minutes or so to soften up, then skied down. The snow wasn't great, but that 30 minutes of sun made a big difference. The ski down was deceptively tiring, partly due to the narrow width of the chute. There are only 2 runout areas the entire length. Other than that, you're either turning or you're stopped.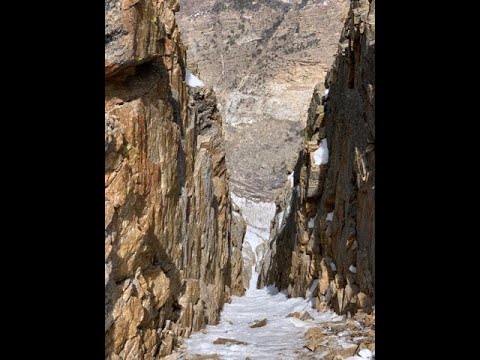 Overall, it was a successful trip. The visual impact of the couloir itself was stunning. In the warmth of spring it also had the best coverage. But now that I've seen the Ruby Mountains, I'm sure there's better skiing elsewhere when the coverage is good. I think I'll come back another time and explore.