Background: I've been trying to find a good, simple, reliable backcountry/touring telemark setup that is also releasable for safety reasons. I already have an NTN/TTN setup (Meidjo) and like it a lot for the resort, but it's a pain for touring. Between the fiddly transitions and icing issues, I spend a lot of time dealing with the binding rather than skiing, especially because the areas where I ski have a lot of up and down. I think NTN has the best lateral/edge control, and good releasability, but all that binding underfoot has inherent transition and icing problems. I think with a lot of development these issues may eventually be solved, but the complexity of NTN bindings becomes a reliability concern. Not a big deal at the resort, but I don't want a flex plate or spring box cracking when I'm miles from help.
TTS, on the other hand, is simple, lightweight, has less of a problem with icing, and offers relatively easy field repairs. The main drawbacks are less control with the real heel connection, and lack of reliable release. Since lighter touring boots (F1, F3) aren't as stiff as resort boots, the control difference between real heel and NTN is not as much of a concern for me when touring. Releasability is, though. There's no good solution for telemark release at the real heel, and there are only 3 tech bindings designed to release at the toe (Fritschi Vipec, Tecton, and Trab TR2). Of those, only the Trab looks to have the strength and range of motion for telemark. There's a thread on the brainstorming behind this idea
here
.
When 2020 COVID/end-of-season sales resulted in some temporary discounts on backcountry gear, I jumped on a couple sets of Trab TR2 bindings and got to work. I incorporated elements of OMG TTS, Kreuzspitze, and Meidjo in this binding, while also 3D printing a bunch of my own parts. Here's the result.
Tech Toe
This is the heart of the binding. It's a standard SkiTrab/La Sportiva TR2 toe. The only modification is related to entry/exit. The TR2 toe is meant to be engaged and disengaged with a completely free heel. As a result, the toe pins only open enough to slide the boot back to exit. I wanted the ability to exit the binding with a telemark heel and/or tech alpine heel engaged, which meant I had to modify the TR2 toe to spread the pins a bit wider. This required grinding the bottom of the release lever, as its travel is limited by the ski surface. In this picture, you can see the stock toe on the left, modified on the right:
Grinding down the release lever made it structurally weak and broke through the pocket where you're supposed to press your pole, so I designed and 3D printed an extension for the release lever. It screws into the stock lever and includes a new, deeper pole pocket.
Springs and Pivot Block
With soft/lightweight touring boots and skis, I like softer, less progressive springs. I chose the Voile long-travel touring spring cartridges, and a relatively neutral pivot block location. I used the OMG pivot block. The middle pivot is 55mm back from the toe pins. Furthermore, since the TR2 toe pins are quite high (36mm) due to the release mechanism, I designed and 3D printed a 5mm riser for the pivot block, with an ice breaker and slanted edges molded in. I also put anti-ice tape on the top surface. I can't find the link but I remember Dostie writing that 1mm in additional pin height above the pivot plane is like 2mm back in pivot position, so I wanted to bring the height differential between pins and pivot back down to what a standard tech toe would be (most are around 28-31mm).
The pivot block riser also prevents bellows droop by supporting the ball of the foot. It's debatable how much this matters in telemark mode, but it saves energy in touring mode and keeps heel pin gap from changing in alpine mode. Another nice side effect of the pivot block riser is that it gave me more options for connecting the springs. Specifically, I really like the "axle" that Kreuzspitze uses to connect Voile Hardwire rods. Why? A few reasons:
The Kreuzspitze axle and Voile rods are a lot more laterally stiff than the OMG pivoting rod.
Voile rods are more readily available to replace in case of damage, not to mention cheap and easy to pack in a repair kit.
This setup allows completely removing the rods and springs without unscrewing the pivot block, which saves weight under your feet on a long tour.
All I had to do was grind off less than 1mm from the sides of the OMG TTS pivot block, and the Kreuzspitze axle fit the channel like a glove. One other simple trick I used was to slide small pieces of rubber tubing over the Hardwire rods. When installed, you can push them up against the axle to keep the rods from coming off, even in a big crash. But slide them back a little, and you can slip the rods off to remove the spring cartridges completely.
Heel
This is where I applied some learnings from previous bindings I've made. First, I used a 3D printed heel throw that I designed specifically to fit the contours of Scarpa F1/F3 boots. It even has a little notch to clear the aluminum ski/walk lever on the F1 Race/Carbon, which interferes with most other heel throw designs. This heel throw uses a little metal clip to attach to the Voile heel bail. That has a nice benefit: if you attach a small neodymium magnet to something behind the heel, it keeps the heel throw and springs down when disengaged for touring.
Speaking of the heel piece, there's one thing about the Meidjo alpine heel that I really like. It's the only tech heel I know of that you can engage and disengage without stepping out of the toe. It sounds like a small thing, but the times I find myself wanting an alpine heel, I'm usually in terrain that's steep and sketchy enough that I don't want to step out of my binding. Since the Meidjo alpine heel is only designed to be used with the Meidjo plastic heel pad and riser, I decided to create a hybrid heel piece using the Meidjo pins/block mounted to a custom-designed post with the Kreuzspitze/ATK screw pattern. After prototyping the heel post in plastic, I had it 3D printed in stainless steel by Shapeways.
This solution has a few benefits:
The Meidjo heel has very low lateral tension and is meant to be used in combination with a telemark heel. That means you don't have to disconnect the telemark binding to use the alpine heel, which makes transitions easier (see video below).
Using a common screw pattern and heel adjuster (Kreuzspitze/ATK) means I can swap heels, remove the telemark springs and rods, and use this as an AT binding.
The Meidjo alpine heel has a little slot that easily fits a small magnet, which I installed with epoxy.
Since the Meidjo alpine heel doesn't include a heel pad or riser, I used the OMG TTS heel for those. I plugged the mounting holes and instead drilled 2 more that align with the Kreuzspitze heel adjuster -- this not only saved drilling more holes in my skis, but also means I can move the heel pad to accommodate different sized boots. I did have to grind some material off of the underside of the OMG heel to clear the Kreuzspitze adjuster.
Transitions
To show the ease of transitions between binding entry, touring, climbing, telemark, alpine, and binding exit, I took a video. All of these transitions are possible with a flick of a pole -- no ski removal or even bending over necessary. This is also why I mounted the binding to Voile BC skis; for low-angle rolling terrain, minimizing use of skins and quick transitions maximize time spent moving.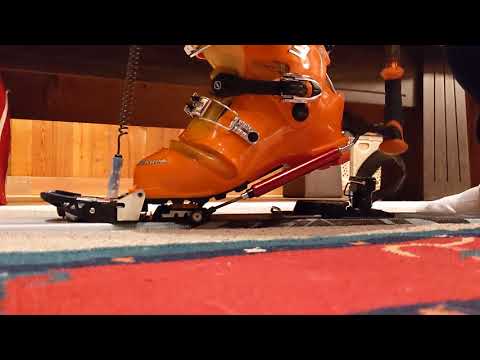 Snow Testing
Coverage is pretty limited right now, so I've only been able to ski these on groomed runs at the resort. But the skiing dynamics were as expected -- when skied with F3's, control was comparable to Meidjo with duck-butted F1/F3's, but not as sharp as Meidjo with TXP's. I did have one pre-release at the toe with tension set at DIN 6.5. I increased it to DIN 8 and tightened the spring cartridges a bit, and had no other issues after that.
I still need to test these in more aggressive terrain, and in the backcountry, once we get more snow. But I think the original concept has proven viable. I'll report back when I have more data.